Designing & creating is my happy place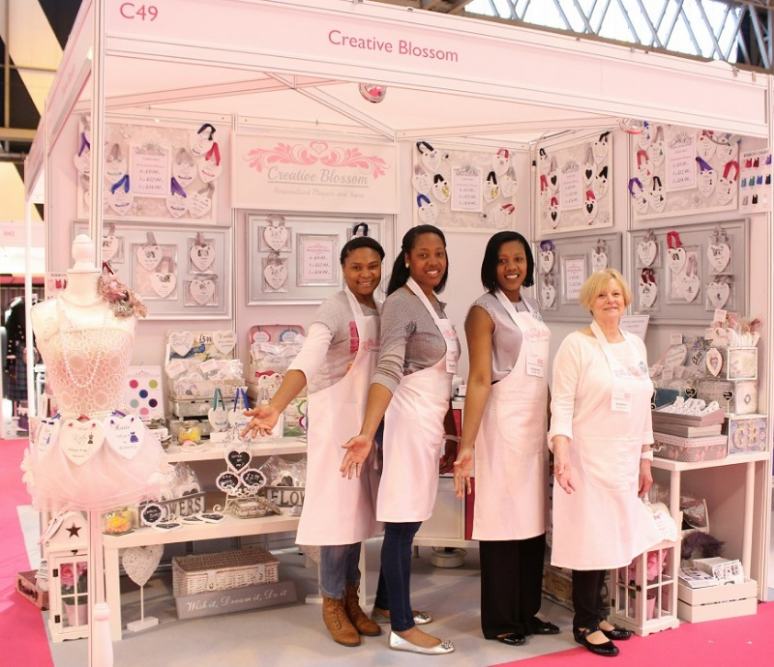 Hi I'm Tracy the owner of Creative Blossom here are some random facts about me:
I'm a born again Christian that can't live a day without Jesus Christ, I love the relationship I have with God through Jesus, I promise you this is where all my ideas and inspiration comes from. I just know I was born to create!
All the photos on the website are taken by moi!, I love my DSLR and get a real buzz out of styling my photo shoots.
I absolutely love Period Dramas such as Downton Abbey!, and more recently Bridgerton, love love love them
Most commonly used phrase "oh my giddy aunt"
I adore sunshine, who doesnt love the sun beating down on them on a lazy afternoon, not that I ever get a lazy afternoon lol.
From humble beginnings in 2013 to the present day, Creative Blossom has surpassed my expectations as I've seen my business grow from strength to strength.
Like a flower my creativity just keeps blossoming! Here I am second from the left at the N.E.C in 2015 selling the handmade wooden plaques I used to make. How time flies, my product range has evolved over the years as i've learnt new skills, aquired new equipment and pushed my creative flair to new heights.
As a child my parents were always making something, so I was surounded by excellent craftsmanship and attention to detail.
I'm not afraid to say that my designs are simply stunning and so is the quality, I love waking up and seeing so much prettiness everyday. If you're looking for wedding day essentials or a personalised gift you're in the right place.
All items are professionally printed and quality checked before leaving the dispatch table. I take pride in every order, to ensure the highest standards in quality are achieved. Get comfy and browse through the delicious categories, there really is so much to see. x